Zalgiris, Lelevicius need no extra motivation
Article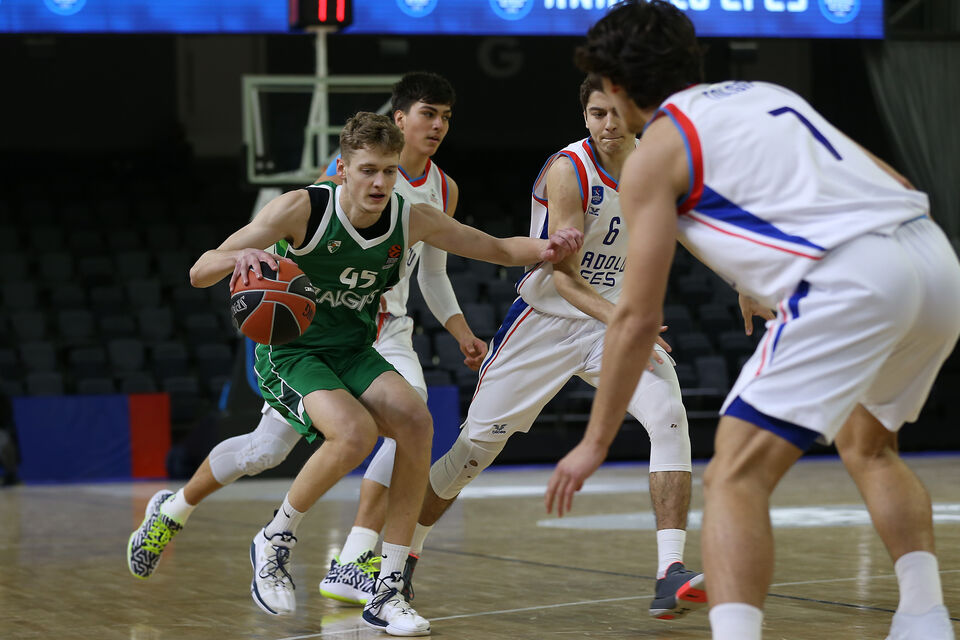 U18 Zalgiris Kaunas's two Euroleague Basketball Adidas Next Generation Tournament continental titles are the second-best in the competition's history.
Zalgiris has also finished as the ANGT runner-up a record three times. But the last time the Lithuania powerhouse reached the ANGT Championship Game dates back to 2011. Liutauras Lelevicius is out to change that in Valencia next month.
"We don't need any extra motivation. We are already motivated to compete and fight for every centimeter on the court," said Lelevicius of the team's effort to give Zalgiris a third ANGT trophy and pull even with U18 CSKA Moscow.
And when asked what it will take for Zalgiris to add another title to those won from 2003 and 2007, the 1.99-meter center said: "We will have to play as a team. One player can't win tournaments."
Lelevicius played outstandingly at the ANGT Istanbul, earning a spot on the all-tournament team as Zalgiris lost just once, to eventual winner U18 Real Madrid, and took third place.
"I am quite happy about my performance. There are always things to improve but overall I feel happy about it," said Lelevicius, who averaged 18.8 points, 6.0 rebounds, 1.8 assists and 1.2 steals for an index rating of 22.8.
The tournament in Istanbul was the second time he was appearing in the ANGT after picking up 2.3 points, 3.3 rebounds and 1.5 assists in the ANGT Kaunas in 2019-20.
"I think that I've improved a lot since then. I understand the game a little bit better. I am better prepared physically and mentally as well," he said.
By the time the ANGT Finals tip off in Valencia in June, Lelevicius will have been very prepared for that moment. He started playing basketball when he was 5 years old. That's when his mother, Indre Leleviciene – who played the game for 13 years, was a candidate for the Lithuanian youth national team, and won a university title in the country's student league – asked her son if he'd like to tag along to one of her training sessions.
"My mom asked me if I would like to attend the practice. And basketball has been my best friend since then," Lelevicius said.
A watershed moment for Lelevicius during his still-young career came at the FIBA U16 European Championship 2019, where Lithuania lost to Greece 67-56 in the Round of 16 and ended up finishing ninth. Especially painful was that Lithuania had beaten that same Greek team twice in the European Youth Olympic Festival tournament in Baku, Azerbaijan earlier in the summer.
"It was the toughest loss in my career so far, because we had really high hopes for that tournament," said Lelevicius, who slumped to just 5 points, 3 rebounds and 1 assist in 27 minutes. "It hurt a lot, but it also motivated me to improve."
Lelevicius says he didn't grow up watching any single player as a role model, which may have helped him form such a versatile game. Another thing that has led to a rise in the ranks has been his inner belief.
"In my opinion, you have to believe in yourself," he said. "I guess you can practice as much as you want, but if do not believe in what you are doing, it will be difficult to succeed."
And self-belief will be necessary, Liutauras Lelevicius knows, if Zalgiris is to end its long ANGT title drought.